2.Mathematics Lab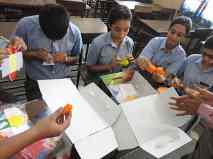 The Maths Lab is a place which makes learning Math fun. Classroom teaching, which may seem drab to some, is supported by reinforcement of important concepts through experiential learning. The laboratory approach to teaching Mathematics provides students with the opportunity to understand and discover the beauty, importance and relevance of mathematics as a discipline. The Maths Lab comprises of a variety of mathematical teaching aids in the form of models, games, charts, CDs, books etc, useful for effective learning. Reinforcement of concepts is also done by IT- based interactive teaching which is also available in our Audio Visual Room. Over and above, each student till class VIII is provided with a child – centric Mathematics kit. Each kit contains manipulatives which provide concrete mathematical experiences and hence, generate enough interest for learning Mathematics.
3.Science Lab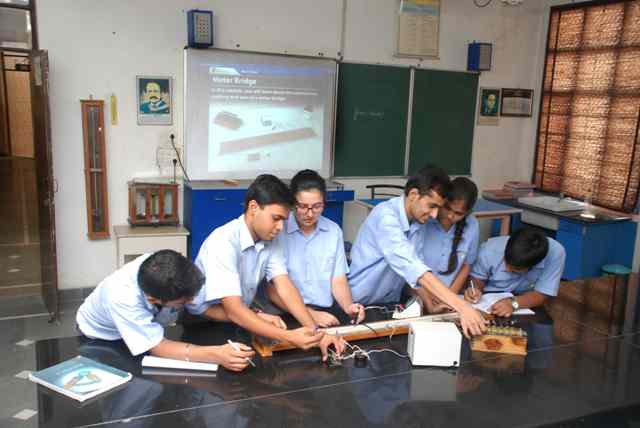 The School Science labs are places where our children gain hands-on experience and are places which induce wonderment and inspire inquisitiveness. Separate laboratories for the disciplines of Physics, Chemistry and Biology offer an experience conducive to learning for students of all classes.
The labs are well-equipped and provide for not only the prescribed syllabus, but much beyond. 'Learning by Doing' is the mantra which forms the underlying theme on which these labs function. Students are exposed to Experimental Science right from Class III. Students are taught various scientific concepts through demonstrations as well as by doing experiments themselves.
4.Biology Lab
5.Chemistry Lab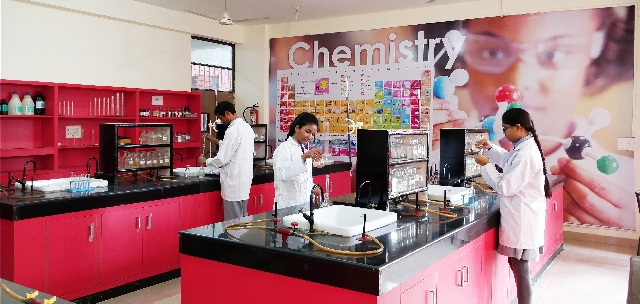 6.Physics Lab
7.AV Room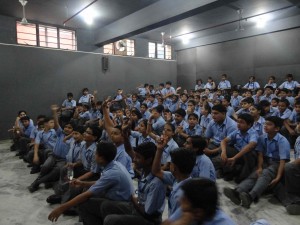 The school has an Audio-Visual Room equipped with Multimedia Computers and an LCD Projector. This audiovisual room caters for interactive teaching of all the subjects through computers. To support audiovisual Room activities, a large number of Audio/Video cassettes and CD-ROM's related to all subjects are available. The seating capacity of the hall is around 100.
Teachers prepare the Lesson Plans and Lectures for their respective subjects to be delivered to students, using the latest software available. These lectures are then projected in the AV Rooms through an LCD projector to enhance the learning experience using Audio & Video effects.
8.Smart Class Rooms
The School also has Smart Classes in every classroom. In these, server based class syllabus modules are available for teachers to use in order to maximise learning outcomes. Classes are regularly conducted in these, especially where complex concepts are to be taught. Teacher resource base is constantly updated with teaching lesson plans and worksheets.
9.Computer Labs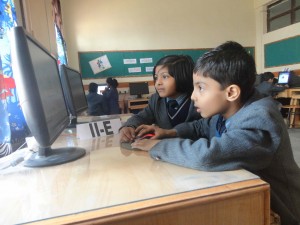 The School's IT Centre comprises of separate computer laboratories for junior middle and senior classes. This Centre provides invaluable skills and knowledge essential for students to grasp the nuances of Information Technology. The Senior Computer Laboratory is also equipped with high speed internet connection, thus permitting a high-quality Internet surfing experience under supervision. Computer is taken as a tool and compulsory from Classes I to X. The school believes in an integrated approach to all subjects using computer as a tool, in order to promote practical and hands on learning for students. The endeavour is to integrate computer education into all subjects in order to enhance learning outcomes rather than regarding computers as a stand-alone subject. Computer Science is offered as an elective subject at +2 stages. The school boasts of a child to computer ratio of 1:1. The IT Centre gives priceless experience to students in structured methods of instruction/learning; and in the best of software available in the very competitive world we live in.
The I.T. Centre also houses the School servers and the online school portal is actively used to maintain students' academic and co-curricular records and all other facets of school administration, which is largely automated. It also comprises of a Teacher Resource Centre with Desktop computers, to empower teachers to better prepare for their classes.
10.Conference Room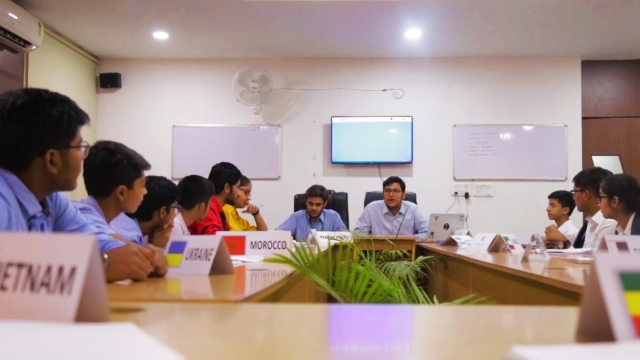 Indirapuram Public School also has a very modern conference room capable of seating 35 persons, equipped with state of the art microphone system. This resource lends the school the capacity to support a seminar based teaching pedagogy, thus further enhancing the overall teaching – learning experience. It also gives students the opportunity to develop soft skills required to hold their own in conferences and meetings later in life.
11. Activity Centre for Creative & Performing Arts
The school boasts of an area devoted entirely to the Fine Arts. This includes aspects of creative as well as performing arts.
With a large area devoted to the Arts, the school has separate rooms/sections for Vocal Music, Instrumental Music, Drawing, Commercial Art, Indian Dance, Western Dance and a whole host of other activities. At the centre hub of this complex of rooms is located the central activity hall for showcasing creative and performing art. We can state with pride that Indirapuram Public School has perhaps one of the finest facilities in this regard anywhere in the National Capital Region. Besides, we have an excellent faculty to ensure that this activity centre flourishes and that it will churn out aesthetic talent in the coming years.
Performing Arts own a very special place in the School. Students are provided with compulsory Music education. Every student has the opportunity to express his or her rhythm and thereafter to hone these talents.From contemporary to classical, students are exposed to all forms of art, to help them find their own note in life. The objective of the school in this regard is to ensure that each student find his or her own latent talents, is encouraged and guided to hone and improve them.
The School offers training in various musical instruments, Folk and Western dance along with Vocal Music. As a result of this enviable combination of excellent facilities, competent faculty and programming, students at Indirapuram Public School today have formed independent bands/musical groups in Western and Classical Music.
12. School Playground
The school firmly believes in the maxim "a healthy mind resides in a healthy body". In order to promote all round development of students, the School has always laid stress on sporting activities. In addition to teaching various physical and sporting skills to students, the school encourages multidimensional activities which satisfy the human urges for competition for a taste of victory. Annual Sports Meet for students are held, apart from regular competitions in various sports.
The IPS Sports Academy which has been functional for some years now includes coaching in Cricket, Football, Badminton, Taekwondo, Table Tennis, Lawn Tennis, Swimming and Skating; all this with the aim to encourage healthy pursuits amongst our students.
13. Transport Facility
Indirapuram Public School boasts a fleet of 25 buses, thus ensuring efficient transportation facilities extending to Indirapuram, Vaishali, Vasundhara, Rajnagar Extension, Crossings Republik, Noida and East Delhi, where most of our students reside. Drivers and conductors are trained regularly as per safety norms and guidelines. A school teacher travels in each bus to ensure safety of students. The school ensures that each bus remains in communication through cell-phones provided to each driver.The buses leave the school only after the school teacher checks that each child who ought to be on the bus is present.
14.School Infirmary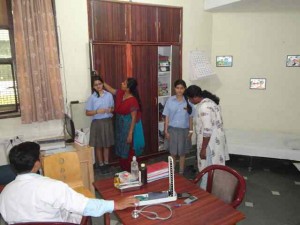 The School infirmary is fully equipped with medical facilities. It caters, for health check-up of our students by a qualified physician and a nurse. There are also provisions for handling emergencies during school hours. Overall health check-ups are performed once (for senior students) and twice (for junior students)